Happy Easter
This year due to the Coronavirus Pandemic all Church buildings in Hexham are closed for Easter yet the Church in Hexham is very much alive. As Christians we invite you during Easter to find out more about who Jesus Christ is and what his death and resurrection mean for you. We offer here a number of websites which will help you to do that and also links to some online services which will take place on Easter Sunday.
Fr Christopher Warren from St Mary's Church has written prayers for everyone to use during Holy Week and Easter. You can find these prayers by clicking here.
If you are looking for the Churches Together Holy Week and Easter posters to put in your windows or show on social media, please click here.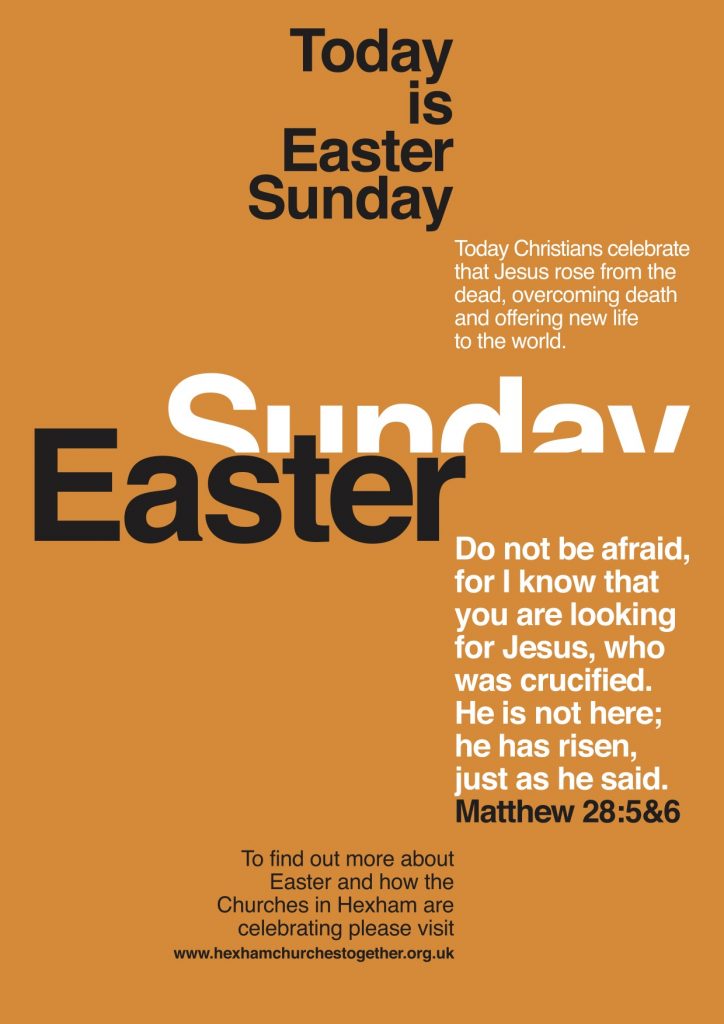 Resources to find out more about who Jesus is and why Christians celebrate Easter:
The Seriously Surprising Story from Bible Society explains what happened at Easter in an accessible way for All Ages. Click here to watch the video on YouTube and here for more information.
To find out more about the Christian faith and who Jesus is visit Christianity.org.uk Click here to be taken the website.
Alpha is a series of videos and discussions about what it means to follow Jesus. Click here for more information.
Online Services for Easter Sunday:
Hexham Trinity Methodist Church are holding on online Zoom service at 10.30am. Contact David Goodall (minister@hexhamtrinity.org.uk) for the Zoom link.
St Mary's Roman Catholic Church are streaming their Easter Sunday Mass at 10am, click here for their Youtube Channel.
The Tynedale Methodist Circuit are offering videos for reflection on their website, click here for the reflection page. A reflection from Easter Sunday will be provided by Rev. Paul Dunstan.
Welcome to the Churches Together in Hexham Website
On this website, you will find links to the individual Hexham churches with a pictures and information about them. You will also find information about events such as the Good Friday Walk of Witness, Lent Groups, Carols at Christmas, Now is the Time to Worship events, all of which we organise together.
We hope that you will enjoy browsing this website, and if you have any questions, please don't hesitate to contact us.